Hardware Repair Programs
Outlined below are general overviews of our various hardware repair programs. These plans are designed to provide solutions that optimize cost while insuring timely and effective problem resolution. Asset recognizes that certain areas of your technology infrastructure are considered highly critical failure points. Therefore, we tailor our hardware repair services to help you maintain normal operation and minimize any serious and costly business interruptions.
While always striving to provide the very best service at the lowest cost, we understand that a "one size fits all" approach isn't always applicable. Therefore, many of our customers have chosen to "blend" various aspects of our standard programs. We will work with you directly to develop and implement the most effective repair program to meet your organization's specific needs.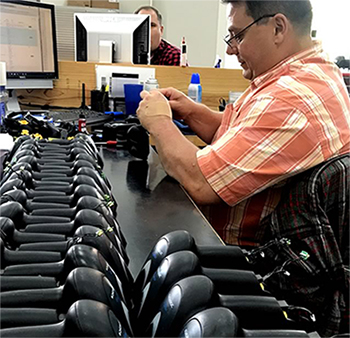 Time & Materials
Our "Time and Materials" service option may be an appropriate choice for customers who have low volume and unpredictable repair needs. This type of service agreement is based on our current hourly labor rates plus the cost of parts and shipping. There is no minimum charge per occurrence. Defective equipment is shipped directly to our facility in Greenville, SC. After a prompt evaluation and assessment, we will provide you with an electronic estimate of the repair cost and turnaround time. All repaired equipment is tested and returned to your location via the predetermined shipping method. We package each item in our customized foam shipping containers which virtually eliminate damage during shipment and "out of box" failures.